Marketing Strategy
Strategy answers the question 'how do we get there' and defines elements to achieve digital marketing objectives using a range of tactical e-tools and a revised marketing mix.
TARGETED DIGITAL MARKETING

Value Proposition Identification
A strategic marketing plan requires the identification of all the possible value propositions that are available and add-value to the firm. Only then can you develop a series or set of hypotheses that allows us to organise our thinking in terms of the relevant market segments to focus the tactical tools on, for each of the profitable revenue streams. In other words the market segment determines the marketing mix.

Armstrong and Kotler (2003) define market segment as a group of consumers who respond in a similar way to marketing efforts. Consumers can be grouped in various ways based on demographic, psychological, geographic and behavioural factors. After segmentation is complete, target markets should be chosen from all the suitable segments. This involves evaluating each market segment's attractiveness and then selecting one or more segments to engage.
Marketing strategy involves the development of a basic structure for your marketing campaign comprising of a plan of action over a defined period of time.

This process addresses feasibility and company objectives, taking into account the organisation's capabilities.
The business tool shown above is a useful strategic framework that can be used to create a digital marketing road map for any business. Its purpose is to maximise all the market segments that are identified and targeted by creating features that appeal to these customer segments in order to develop new and maximise existing revenue streams. The strategic framework should adopt an emergent strategic methodology. This lean / agile process will involve the idea of iteration and the incremental delivery of the solution through trial and error where error is used as a source of information. If every trial provides you with information about what does not work, you start zooming in on a solution – so every attempt becomes valuable, more like an expense than an error.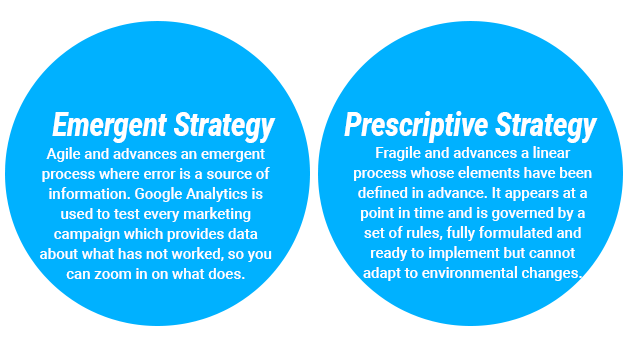 Key components to consider when implementing an emergent digital marketing strategy
REVENUE STREAMS
Revenue streams define the customer segments that are being targeted? How do we break the market into segments and who are going to be targeted to develop each revenue stream? What is the target market for each identified revenue stream?
KET PERFORMANCE INDICATORS
Key Performance Indicators (KPI's) are key measures that are collected to find out our current position and allow us to measure whether the company's objectives are being achieved. KPIs identify the success criteria through results, data and measurements against pre-defined benchmarks which can be quantified and used as objectives to be constantly measured.
OBJECTIVES
Objectives answers the questions 'Where are we going, or where do we want to be?' Why go online? What are the benefits, what is the purpose of going to all of this effort? Good objectives are quantified and have clear timescales. The overall objective should be to develop digital marketing activities that are proactive, differentiates the firm from the competition and generates new quality subscribers that fits the firm's buyer persona and then convert them into customers.
POSITIONING
Positioning will develop an exact position in the market place for each revenue stream that adds value, through the identification of the value propositions.
TACTICAL TOOLS
Tactical tools is concerned with the mix of both online and off-line marketing tools and will be decided by our strategic decisions i.e. click or brick. Tactics involves strategy implementation and focuses on the optimum mix in terms of communication channels. This is achieved by considering all the e-tools (i.e. web site, opt-in email, mobile apps, digital media channels such as paid search and display advertising and so on) that are available, and then using them in a sequence that is aligned to the strategic direction of the organisation. Tactics should be developed only after the strategy has been agreed and set, and tend to be short term and flexible, whereas strategy is more long-term and enduring. It is important to understand what each e-tool can and cannot do to ensure efficient project management implementation. This will help to decide when, where and how each e-tool is used for each different revenue stream or customer segment. An effective method to achieve this is to implement the PRACE framework (Smart Insights 2012).
SEQUENCE
Marketing response attribution identifies which channels and the sequence of touch points contributed to qualified conversions and sales. By knowing what triggered each response would enable marketers to assess whether or not their marketing efforts were getting the best results. The following three steps are vital in order to getting multichannel marketing right. There should be a sequence for tactical tools. For example, marketing automation means that you can set up your marketing sequences so that when a prospect takes a certain action, such as opening an email, or visiting a web page, then that will trigger the next marketing message, which is specifically relevant to them.
INTEGRATION
The web site processes and all the customer touch points (from social media, app sign-up forms, online registration details or even telemarketing) should be integrated into the database. The aim should be to deal with every subscriber in the database as a recognizable individual with unique preferences regardless of how the customer comes into contact with the company. Can the online activities and the offline processes be integrated into the firm's database?
SOCIAL MEDIA
Social media is more than a tactical e-tool as it can become a platform for listening to and engaging with customers. Content strategy can include social media by determining what topics will be published in which media on what platforms.
Choose your required digital marketing service...